Current developments in talent management
So-called "megatrends" make it clear why talent management is currently of great importance:
Demographic change: By 2030, there will be a shortage of 1 million specialists and managers.

Changing values: Generation Y (born after 1982) and their changed understanding of work values are having an impact on the world of work. While "career," "leadership" or "increased income" were still the personal goals sought in the 1980s, other values have gained greater importance. Various studies and surveys show that this generation values self-determined work, personal development, interesting and meaningful tasks, and a good "work/life" balance. This changed understanding of values should be taken first, as this generation is also actively demanding its expectations and needs due to the shortage of skilled workers. If companies ignore these, good talent will quickly leave the company again. However, the current discussion about "Work 4.0" ("How will we work tomorrow?") also shows that this topic does not only concern Generation Y. For example, the German Federal Ministry of Labor and Social Affairs launched a dialog process in the spring to initiate a broad discussion with the population about "Work 4.0".

Flexible and transparent labor market: Staff turnover has increased or will continue to increase in companies. Current studies assume that in the future it will be the rule to change employers 5-7 times until retirement age. At the same time, the transparency of the labor market is increasingly increasing. Career websites, social media channels, employer competitions or rating platforms provide direct insights into companies and expose many a well-intentioned glossy brochure. This is where the (power) relationship between companies and applicants turns. Companies must apply more and more to potential employees and establish an attractive corporate culture in order to survive in the battle for talent.
Definition Talent Management – The Foundation
In talent management, each company must first define for itself what is meant by "talent" and how talent management is aligned. There are usually two basic issues at stake here:
Should talent management focus on a relatively small group of employees, such as so-called "high potentials" or managers? In most cases, this group of employees is included in "talent pools", in which special development and promotion measures are then talent
be run through.
Or is the concept of talent broadly defined, in which it is assumed that every employee in the company has "talent" and that the task of managers, HR managers and ultimately the entire organization is to discover and develop this talent?
The backing of management is a mandatory prerequisite for the establishment of successful talent management. The latter must recognize talent management as an important, company-relevant topic and actively drive it forward. If employees from the HR departments are responsible for the establishment and implementation, the management must ensure that the necessary "backing" is also available here, especially with regard to the specialist departments.
Another important feature is the strategic anchoring of talent management with the corporate strategy. The corporate strategy makes it clear how the company intends to develop and position itself in the future and which goals are to be achieved. Conclusions for the future talent management strategy can then be drawn and derived from this.
To lay the foundations for successful talent management, a workshop is recommended to define a common understanding and future direction. Within this workshop, the following questions can be addressed:
What do we mean by talent?
How can future alignment be based on corporate strategy?
What are the goals to be achieved with talent management?
Who will be responsible for talent management?
How can we ensure that talent management is successful?
Talent Acquisition
Attention:
Make potential candidates aware of the company. Young recruits and university graduates report time and again that although they often want to start their careers in the respective region, they are sometimes not even aware of the different career opportunities offered by the companies. This is where awareness needs to be raised:
School cooperations: Schools usually even offer free opportunities to present their own company. Be it at job fairs, career days, open days, collaboration in projects or through presentations. Often there are specific contact persons among the teachers who are responsible for exactly these cooperations. They need to be addressed.
University cooperations: In order to be noticed by graduates from colleges and universities, cooperations are an option in addition to the usual job fairs. The so-called "Career Service", which can now be found at almost all universities, serves as a door opener. The direct way through the chairs or student councils is also interesting, as some university professors know their students very well and can establish a contact. Building relationships with teachers and lecturers is the "be-all and end-all" and initially refers to a purely professional exchange. Why not ask the company's own specialists whether they are interested in becoming active here?
Career and job fairs: In addition to school and college fairs, there are often special career and job fairs in each region. Regular and continuous participation can already greatly increase awareness among potential applicants.
Employee referral programs: Let your employees become ambassadors for your company. Regularly inform employees about career opportunities in their own company and encourage them to communicate the offers to their friends or acquaintances.
Interest:
Once potential candidates have the company on their radar, the next step is to arouse their interest in it. One's career website still remains the linchpin to being interesting to applicants. Score points as a medium-sized business with the personal touch. Make it clear what values your company stands for. Good professionals in particular ask themselves before applying whether their values match those of a potential employer. Closely linked to the values are then the special benefits for employees. Consider what special offerings your company provides and what sets it apart from other companies. Also, give your website real personality by running an employee or trainee blog, for example, to communicate the company culture to the outside world. Have your employees give honest accounts of the company's day-to-day operations. Interview your employees and ask them why they work at that particular company. The goal should be to portray an authentic image of the company.
Desire:
Once the interest of potential candidates is aroused, the desire should then be generated in applicants to contact the company or even to work there. Hurdles must be kept as low as possible to ensure fast and flexible entry. Is it clear to the interested parties how contact can be made? A personal contact person is indispensable. He must respond to and maintain contact requests regularly and quickly. Preferably in different ways, so that interested parties come into personal contact with your company as easily as possible. Applicant days, open days, awarding of bachelor's and master's theses, short internships or 3 to 6-month internships. Make sure that these are not one-day events, but that these measures take place on a regular basis. In addition, a qualitative orientation of the measures also plays an important role. Internship tasks and activities should be challenging and meaningful.
Action:
The candidate's desire to apply is aroused. Not only that, he may be able to envision himself in permanent employment. At this stage, there are a number of measures that are critical to success: the aim is to ensure that the candidate can apply without much effort, e.g. directly via their own XING profile. For example, short answer options, either on the application or for the invitation to the interview, are used to make applicants feel valued and at ease. Is the "classic" job interview still up to date? It is not uncommon for good candidates to not start at a company only because they did not have a positive interview experience. Companies should ask themselves how communication "at eye level" can succeed.
Talent Identification
1st phase: Target positions evaluation
The basis of talent identification is the evaluation of key positions. These can be defined directly by management or in collaboration between management, executives and HR managers. The assessment is not necessarily about specific (current) jobs, but about potential key positions that are important for the company. There are two important aspects to consider in the assessment: First, the assessment should not be limited to the management level, but should also include the specialist positions that are of high importance for the challenges and competitiveness of the company. Second, the specific requirements for future holders of the key positions should be defined.
Phase 2: Nomination
The nomination phase defines which general employee groups will be considered for future key positions and will be given consideration. The nomination process should also be clear. An interesting trend: every employee can apply for a talent pool as part of a self-nomination process. This promotes transparency, self-responsibility and prevents talent from being misjudged or from not being "given out of hand" by managers for self-serving motives.
Phase 3: Potential analysis
This phase is about diagnosing the necessary potential and suitability for upcoming key positions. The human being is complex and unique. The following 5-step system can help to discover the unique potential of employees.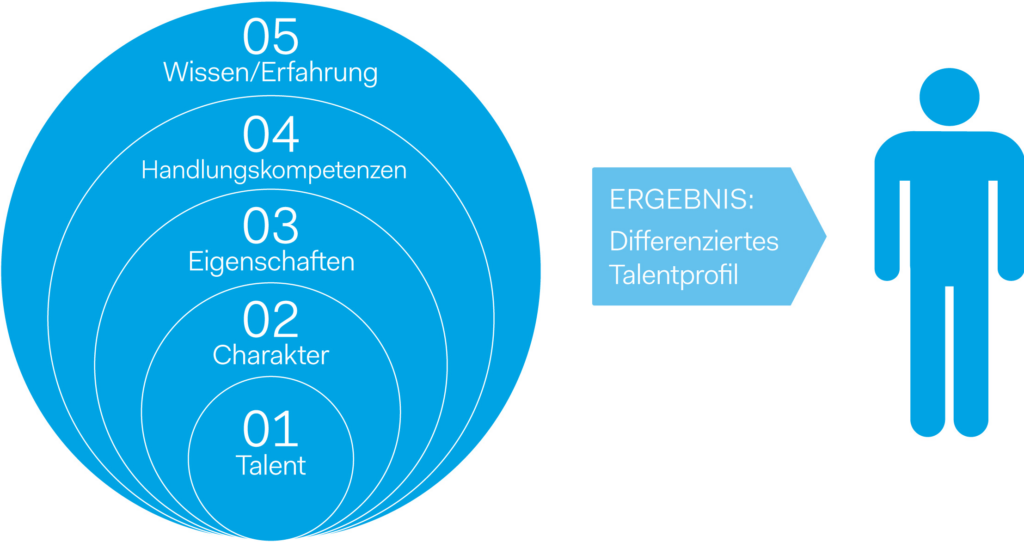 Talents: Talents are innate patterns of thinking, feeling and behavior of a person that can be used productively.
Character: Character refers to exemplary, responsible behavior with integrity in a variety of situations.
Characteristics: Characteristics describe the personal way in which employees perform tasks and interact with people.
Action competencies: competencies are repeatable behaviors in complex, unexpected, and open-ended situations that produce successful outcomes.
Knowledge/Experience: The specific knowledge and professional experience that someone has gained in a particular professional context.
The latter should not be the major focus, as knowledge and experience are still the most likely to be learned and developed.
The different aspects of personality could meanwhile be mapped very well via certain online test procedures. They are carried out cost-effectively and quickly and provide information about the still "undiscovered" potential. Together with the assessment of the talent's direct supervisor, this results in a differentiated profile.
Phase 4: Selection
Management, executives and HR managers should form their own impressions of the candidates. Semi-structured interviews in which all candidates are asked predefined questions, but in which there is also the option of including intermediate or additional questions, have proven their worth. Another good complementary measure is to have candidates give a presentation on future topics relevant to the company. Together with the feedback from direct managers and the analysis of the test results of the potential analysis, a complete picture then emerges.
Talent Development
Talent development begins with a realistic development plan based on an analysis of potential. Existing strengths become clear, but also personal development areas are concretized. How can these potentials be identified? What should the future development plan focus on? For the identification of potential, a "triad" is suitable with regard to looking at personality and various feedback and reflection methods. First, ask your talent to do a self-assessment of their potential.
The following guiding questions provide orientation:
Strengths/weaknesses: Which tasks/activities do I find easy? Where have I achieved above-average performance so far? In which activities do I feel joy and get energy? What tasks do I find difficult? In which activities do I have to make a great effort to achieve my goal?
Interest: Which (business-relevant) topics excite me? In which areas would I like to develop further? Which topics move me and which ones do I want to deal with and learn about in the future?
Ideal environment: What kind of working environment do I need to achieve above-average performance? Do I want to specialize professionally or aim for a management position? What kind of activities suit me: big challenges, interaction in a team, improvement of processes?
Then an external assessment should be carried out by the respective manager and one or two colleagues from the immediate environment.
An individual development plan consisting of a portfolio of measures can be derived from this potential profile. At this point, we will briefly present two of these measures, which can be implemented especially well in medium-sized companies:
Stretching jobs
Talents should be assigned temporary projects that are challenging on the one hand, i.e. contain high learning and development opportunities, but on the other hand are also of high importance for the company, such as strategic topics. If multiple talents are present in the talent management program, teams can also work together on an important task and create innovative solutions. Overall, ensure that the duties are definitely different from those associated with the current role.
Mentoring and Coaching
Create opportunities for your talent to actively engage with their development process. Mentoring focuses on the transfer of knowledge and can be provided very well by experienced persons. Not only colleagues from our own ranks are suitable for this, but also those from other companies. Why not contact friendly companies or suppliers and ask if there is interest in a cross-company mentoring program? Assistance through coaching should be considered when specific topics from the potential analysis such as self-organization or communication are at stake. External coaches can be assigned with the corresponding topic.
Talent Retention
According to our findings and various studies, the following cultural anchors are particularly relevant:
Work-life balance: trust-based working hours, flexible or mobile working, time for personal development, health management, etc.
Transparent corporate policy: Talents should be given access to strategic information and actively participate in corporate development. For example, this can be made possible through so-called "fireside chats". In this context, talents meet regularly with the managing directors to exchange information about the current development of the company. Not only is this a great show of appreciation for the talent, but the leadership also receives valuable impetus.
Regular potential discussions: On the one hand, talents should receive regular feedback on their performance and development; on the other hand, they should define common goals for future development based on the potential analysis.
Challenging promotion: Challenging projects that have a high relevance for the company. It is important that suitable projects are selected in accordance with the potential (strengths/weaknesses, interests, ideal environment). This not only increases motivation, but also ensures very good results.
For further interesting insights please have a look at our news section